Animation researcher TANAKA Daisuke talks about #indie_anime and the individually produced animation scene from 2010 onward
YASUHARA Mahiro
The "Independent Animation Club" was created by animation artist Komugiko2000 in 2020 to stimulate the individually produced animation scene, along with the Twitter hashtag #indie_anime for submissions. Many animated short films are still posted daily today with this hashtag. Thus, viewing the independent animation scene from the 2010s to 2020s reveals many examples where independent animators and their fans formed a community through the web, creating momentum for animators to enter the industry and make music videos and animated short films. In light of these trends, we spoke with TANAKA Daisuke, an animation researcher and program coordinator of the "New Chitose Airport International Animation Festival," about the current Japanese independent animation scene, keeping in mind the history preceding and following the creation of #indie_anime.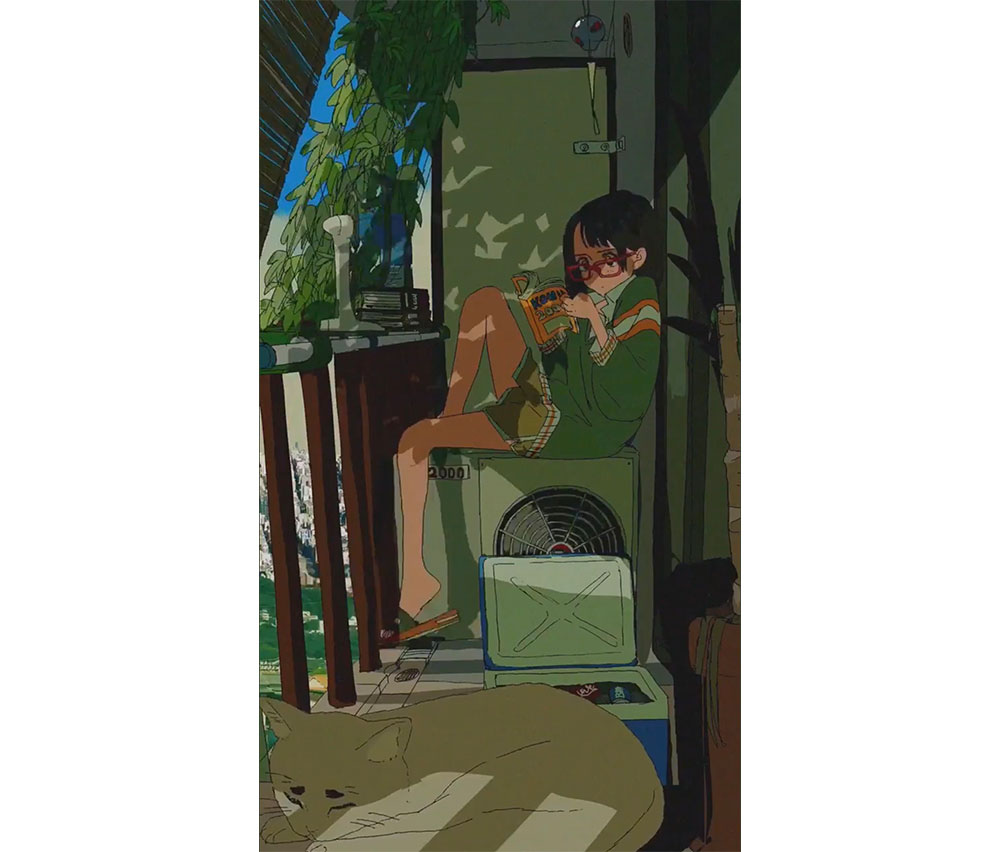 Works were shared on Vimeo and Tumblr in the 2010s
—First, I would like to ask you about the pre-history of #indie_anime. Could you tell us about how the field for presenting individually produced animation via social networking sites and other web services was formed, based on your own experiences?
TANAKA Around 2010, when I was in high school, live performances using motion graphics and projection mapping became widely known to the public in Japan thanks to the activities of Rhizomatiks, which was my turning point. Around that time, the video sharing service Vimeo was a preferred platform for viewing motion graphics-related videos. Since Vimeo supported high definition (HD) video quality ahead of YouTube, many video artists and individual animators were showing their work on Vimeo. HIRAOKA Masanobu and TAJIMA Tao are representative artists who have emerged from Vimeo users, I think.
However, in my opinion, Vimeo was only the first step. I have the impression that many artists envisioned commissioned works, film festivals, and art festivals as the next step. The presence of film festivals such as "DOTMOV" that keep up with developments on the Internet may also have been significant. At that time, the environment was not as conducive to delivering works to a wide audience via social media as it is today. So, as I speculate, it may have been difficult to imagine completing one's career with the Internet as one's home ground.
What sets Vimeo apart from other video-sharing web platforms is its "Staff Pick," a sort of curation process in which Vimeo staff select recommended films and display them on the home screen. "Staff Picks" are checked by highly sensitive art directors and advertising professionals. In one case, an animation artist working in Japan won a major overseas project through "Staff Picks." Because the curation system was functioning well, it did not have the character of presenting works to a large number of people, as is the case with today's social media, but rather functioned as a place where even experimental works could be appropriately guided onto the next step.
Also at that time, there was a movement by the group named "Late Night Work Club," 1 formed by Western animation artists who were connected through Vimeo. The group was active in screening activities and producing new works in an omnibus format. The artists also made good use of Tumblr, a mini-blogging service for posting images and GIF animations,2 and devised a way to re-blog fragments of their works. Such attempts may be a precursor to the current strategy of reaching a wider audience with one's own work by going viral on Twitter and Instagram.
In any case, I think it is fair to say that the animation scene through individual production in the 2010s was a time when communities through web services were also emerging alongside the art and film festivals that had already existed. However, since it became possible to post videos on Twitter in 2015, I think that to talk about these scenes would require a more precise examination, bearing in mind the expanded functionality of each service.
—In terms of functions and tools, is there anything else about the individually produced animation scene in the 2010s that needs to be mentioned?
TANAKA In 2015, an animation production function was added to the CLIP STUDIO PAINT illustration production software, and in 2017, CLIP STUDIO PAINT became compatible with the iPad. Since then, it has become possible to create animations on the iPad in a complete form. In addition, in 2017, animation director YOSHIBE Naoki published a book titled Short Animation Making Course,3 which is widely read as a basic textbook for creating short animations in CLIP STUDIO PAINT from scratch. Another important program is "Anime Shi Juku" (Anime Private School), a distance-learning program by animator MUROI Yasuo, which became famous by the time Komugiko2000 had learned about it. The program's content has been distributed on the Niconico content service and YouTube since 2013. I think it has had a great impact on the scene in that it allows students to learn drawing knowledge on their own without having to learn about it at school.
These changes created a trend toward self-taught animation without specialized education, which was different from the previously mainstream route of learning to be an animator through education at art colleges or vocational schools.
Live music places and clubs were also important venues for animators to expand their activities. Through their video jockey (VJ) activities, they experimented with animation expression and collaborated with artists in related fields. That led to a wider range of activities and new jobs, making these places scenes of animation expression through VJ. To cite a representative example, YAMADA Ryoji, an animation artist who became widely known to the public for his music video for King Gnu's Prayer X, has been collaborating with King Gnu since the band's predecessor to create the show. In this way, many of the artists have built their current activities based on the relationships they have established in live music places and clubs.
Trends and concerns about works spreading on social media
—After the prehistory of the rise of individual production as we discussed above, the hashtag #indie_anime was created in 2020, and more and more works began to be presented mainly on social media.
TANAKA Regarding the reason for launching the hashtag, Komugiko2000 said in a previous interview that he wanted to give back the recognition he had gained through his music video work to support independent productions. The hashtag #indie_anime was not initially independent in its own right. It was an endeavor to retweet and introduce GIF animations posted with this hashtag on an account operated by Komugiko2000 called "Independent Production Animation Club." I think Komugiko2000 wanted to hook up with people who were making independent productions but were not yet well known.
I believe that what is important about #indie_anime is the low barrier to entry, which allows people to join the community simply by adding the hashtag. As you are aware, the COVID-19 pandemic has reduced the role of venues such as live music places, clubs, and art colleges that rely on physical communication. In the absence of real communication, it seems highly likely that connections made through #indie_anime have provided stimulation and support for young artists as an alternative.
—Among works posted with #indie_anime, there seems to be a certain style that makes them particularly popular.
TANAKA In my opinion, the origin of the style highlighted by the hashtag #indie_anime can be traced back to the music video by HOSOGANE Takuya for Jin's Vocaloid song Nihonbashi Koukashita R Keikaku (R project under elevated Nihonbashi) released in 2013. I often talk with people involved in animation about why Komugiko2000 has gone viral, and I suspect that one factor may be the "teal and orange" color scheme, based on blue and orange, similar to the Nihonbashi Koukashita R Kikaku. Teal and orange is a color scheme that has dominated Hollywood films since around the late 2000s and is an ideal combination from a chromatic perspective. This color scheme has a commonality in animator Waboku's music videos for Eve's Okini mesu mama (As you like it) (2017) and ZUTOMAYO's Byoshin wo Kamu (Bite the second hand) (2018). In other words, I think the reason Komugiko2000 has gained widespread support is not merely that he matches the mood of today's youth, but that he can be theoretically supported.
—The hashtag #indie_anime has been energized, but on the other hand, I think the number of posts has become too large, and it lacks searchability.
TANAKA As I mentioned earlier, I believe that the potential and appeal of #indie_anime lies in its openness which allows anyone to participate easily with just a single hashtag. On the other hand, as you pointed out, the ease of use of #indie_anime has compromised its searchability. It is currently not functioning as a guide for viewers. In this sense, experimental contests such as the "Sakuga O Grand Prix" (King of Drawing Grand Prix), "#HashtagAnimeFes" and "Project Young" are very beneficial to the audience in that they provide access to carefully selected, high-quality works. However, since this kind of curation is inextricably linked to authoritarianism. I suspect that some creators may feel uncomfortable. In addition, the majority of contest judges are creators, and in most cases, there are no curators. Because the hashtag has been open to everyone, participants' motivations and sense of purpose must vary, and this being the case, I assume that critical perspectives from outside may be difficult to gain acceptance.
—There is also the issue of archiving, isn't there? By the very nature of social networking sites, there tends to be a constant flow of submitted works appearing.
TANAKA I am sometimes involved in animation-related archiving work, but considering the enormous amount of labor that goes into archiving, I think the reality of the situation is that it would be difficult to complete the archiving process. The originator of the idea, Komugiko2000, expressed his opinion in an interview with KAI-YOU, 4 acknowledging the usefulness of the archive but also stating that he expects accidental "misdelivery" 5 due to the archive's speed. This may be due to a gap in values between the creator, who wants to focus on more instantaneous output, and the researcher, who prioritizes database construction from a long-term perspective. However, I personally believe that we must not forget that #indie_anime is a movement by creators for creators, and that we must respect the creators' sense of purpose. I think we should then consider what kind of balance is possible.
—So, I've learned a lot about #indie_anime on Twitter as we've discussed above. Now, what about the latest trends in individually produced animations on Instagram, for example?
TANAKA I feel that Instagram has become a very important presentation medium. Animation artists overseas also use Instagram as their main platform. When I talked to animation artists in Japan, I found that the number of cases where they receive work requests from overseas via Instagram is increasing. So, I recommend that creators who want to work internationally utilize Instagram.
Correspondence at animation film festivals
—In light of these trends, how do you coordinate the "New Chitose Airport International Animation Festival"?
TANAKA One of the major changes this time at the New Chitose Airport International Animation Festival is the independence of the GIF category. In the past editions, GIF animation works were accepted in the short film category, but it was not fully recognized that GIFs could also be submitted. Therefore, I believe that the establishment of a new framework for GIF animation allowed us to proactively hook up with works in a style that has tended to be overlooked by conventional film festivals.
I have referred to America's "GLAS Animation Festival," founded by Jeanette BONDS, an animator and member of the Late Night Work Club. The festival is small but has won the trust of animation professionals, and it has established a competition for GIFs. The festival has adopted the practice of sharing works submitted to "GIPHY" with hashtags on the official festival account, thereby engaging the Internet community.
—In an era when anyone can introduce their works to a wide audience by simply adding a hashtag, is curation still what is required of art festivals?
TANAKA There is great value in a work having millions of views on YouTube. Norman MCLAREN's experimental animations created more than 50 years ago, for example, may not be universally accepted, but the artistic acclaim they have received at film festivals and other venues has allowed them to be viewed repeatedly at film festivals and art universities around the world, reaching many people across generations. If this snowballs over the next 10 to 20 years, the number of views will reach well over a million.
I believe that the value of a film festival lies in its professional connoisseurship to evaluate films from that kind of long-term perspective. In addition, I believe that it is the mission of film festivals to position contemporary expressions into history. For the latest New Chitose Airport International Animation Festival, I have asked Yoshi SODEOKA, a video artist and designer based in New York for over 30 years, to serve as one of the international jury members, and he has also organized a special program. SODEOKA is known for his music videos for Tame Impala and Max COOPER, as well as for his adverting work for companies such as Nike, Adidas, and Apple. In the 1990s, when the Internet was first becoming popular, he was the art director of Word Magazine, one of the first online magazines. He is a living witness to the early days of Internet culture. This is not only reason why we are featuring SODEOKA, who is a notable figure for those in the know in Japan, at the present time. We are also doing so in order to compare the animation scene on the Internet within Japan historically, as I have talked about so far.
Since I am involved in the film festival, I am concerned that this may sound like I am talking out of my own convenience, but there are cases in which films are screened at the festival and win awards, leading to recognition and job offers from Japan and other countries. The New Chitose Airport International Animation Festival receives more than 2,000 submissions every year. This is one of the highest numbers for a film festival specializing in animation in the world, so it is not easy to be nominated. As most film festivals now allow easy online submission, filmmakers may want to try their hand at a variety of festivals, not just the New Chitose Airport International Animation Festival.
The future of the individually produced animation scene
—Will there be a trend among animators who post with #indie_anime to work on short animated films in the future?
TANAKA Basically, most of the animations posted with #indie_anime are about 2 minutes long at most. There are a number of hardships that must be overcome in making a short film of around 10 minutes in length. As you know, it takes a lot of effort to create an animation.
I mentioned CLIP STUDIO PAINT as a production tool earlier. I recognize the importance of an environment in which animation and illustration are produced using a common application. In the past, the thesis that "animation is not the art of moving pictures, but the art of creating movement with pictures" was often advocated, which was essentially a reductionist thesis that sought the essence of animation in the creativity of movement. In the future, however, we can expect to see an increase in works that can be described as "illustration in motion," where the emphasis is on the overall visuals, the worldview, and editing, rather than on the movement itself. This trend can already be seen among works posted with #indie_anime.
However, there still seems to be a deeply rooted position that the artistic value of animation lies in the richness of its movement. From that standpoint, many of the animations with #indie_anime may be seen as "awkward and immature." On the other hand, it is also hard to say whether they would be positively evaluated at film festivals. At the festivals, animation that does not emphasize movement even animation that hardly moves at all can be highly evaluated. A typical example is The Christies a series by Phil MULLOY, one of the most famous British animators. The Christie is an extremely minimalist feature-length tetralogy in which silhouetted characters' lip synchronizations dominate the entirety of each film. Perhaps only a few dozen drawings were made for the entire series at most. However, the reason that works like The Christies series are so highly regarded at film festivals is because the concept of not moving is clear. Conversely, works that have little movement and no clear artistic intent are difficult to appreciate, even at film festivals.
What I am trying to say is that even if #indie_anime artists create more theatrical short animations, currently the only place they can be posted and shared is on video sharing services and social networking sites. If you have video sharing services and social networking sites in mind, it would be better to make music videos on commission, which would probably generate more reactions. I think the artists would be more motivated to focus on that. For #indie_anime artists to be more proactive in creating animated short films, it may be necessary to contextualize the uniqueness of the #indie_anime and increase the number of venues that accept their work.
—The fact that many of the works posted with #indie_anime are hand-drawn animations, rather than the 3DCG that has become mainstream worldwide, makes sense when you consider that they are an extension of the illustration process.
TANAKA Yes. There are a few 3DCG works, but as you say, I have the impression that 2D is predominant. The artists of #indie_anime have an identity in which animation and illustration are connected without boundaries, rather than being a kind of master-subordinate relationship where the animator also draws illustrations and the illustrator also creates animation.
Another characteristic of #indie_anime is the large number of derivative works. These are derivatives of popular anime, or animations of manga that have not yet been made into anime. Derivative works are unquestionably the work of the person who created them, but they are not completely original. I think it is important that #indie_anime is a platform where such works can be easily presented. There are sites like "pixiv" for illustrations, but there are no such dedicated sites for animation, and YouTube is not very good in terms of searchability. As a result, #indie_anime may be useful as a hub for the submission of derivative animations.
—After going through #indie_anime, I would like to know your view on the future of individually produced animations.
TANAKA I expect to see more and more collaborations among multiple artists. For example, as in the music video for Neko Reset by ZUTOMAYO, in which several individual animators joined their videos together to create a single work.
Many of the animators who post with #indie_anime have difficulty creating works as long as a music video due to technical or time constraints. Therefore, combining several dozen seconds of footage is a brilliant way of creating a unique music video with a sense of unity while maintaining each animator's individuality.
Twelve artists are participating in Neko Reset. Although all are highly individualistic, they have maintained the atmosphere of a single, unified work. Of course, those who are familiar with animation will be able to distinguish the individuality of each artist, but in general, the works can be viewed smoothly and without any sense of incongruity. I assume we will see more projects like this in the future.
This method of creation is effective because it can combine edgy authorship with volume if it is done well, although there is also the concern that it may dilute individual artists' unique flavor. Therefore, it will be necessary to continue to closely monitor whether this method contributes to the individual artist scene.
—In any case, I feel that there is still a need for a curatorial perspective that can logically verbalize new trends of works.
TANAKA In the past, when video-sharing websites were emerging, they were expected to become an alternative platform to film festivals. They were expected to be places where films not easily recognized at the festivals could be illuminated under different evaluation criteria than those under which the festivals operate. However, platforms that focused on curation, such as Vimeo, have lost market share to YouTube, creating a "winner-take-all" situation to a greater extent than is the case with film festivals.
In this sense, #indie_anime is a movement that is open to the general public through social networking sites. I feel that like YouTube, it tends to be a "winner-take-all" type of movement. As you pointed out, I think some kind of curation is necessary in order to present a perspective that draws attention to a wide variety of works. However, as I mentioned earlier, whether the creators themselves desire such curation is a delicate question. I think it is necessary to determine an appropriate sense of distance. There is no doubt that #indie_anime movement holds great significance in the context of today's animation, and as a person involved in film festivals, I would like to do my best to catch up with it somehow.
notes
1 Regarding Late Night Work Club, further details are available in the article below.
"Wakate tanpen sakka tachi no kokusaiteki collective unit ga tanjo" (An international collective unit of young short animated films is born) by DOI Nobuaki. February 1, 2013.
https://mediag.bunka.go.jp/article/post_235-744/
(in Japanese)
2 GIF stands for Graphics Interchange Format, a type of image file format. One of the standard functions of GIF is the ability to store multiple images in a single file and display them in succession to create appearance of moving images. A simple image created by this function is called a GIF animation. Therefore, GIF animations are not video files but image files in format. Accordingly, GIF animations are characterized by the fact that they do not have an audio stream. However, in recent years, the term "GIF animation" is increasingly being used as a genre to refer to very short animations published on the web. The term "GIF animation" as a genre is not necessarily limited to the GIF format, and therefore, animations that include sound are sometimes called GIF animations.
3 YOSHIBE Naoki, Short animation making course YOSHIBE Naoki Works by CLIP STUDIO PAINT PRO/EX, Gijutsu-Hyoron (2017).
4 KOBAYASHI Yusuke, "Jishu seisaku anime-bu hokkinin Komugiko2000 ga hikikomareta yabai #indie_anime 10 sen" (10 awesome works from #indie_anime that drew the independent animation club founder, Komugiko2000), KAI-YOU (September 22, 2020).
https://kai-you.net/article/78173/page/2
(in Japanese)
5 A concept proposed by AZUMA Hiroki in Sonzaironteki, Yubinteki (Ontological, Postal), Shinchosha (1998) against the backdrop of Jacques DERRIDA's thought. Using the metaphor of a postal delivery arriving at the wrong address, it refers to accidental communication that occurs in today's information environment centered on the Internet. "Misdelivery" developed into "active misdelivery" on the basis of AZUMA's thought.
TANAKA Daisuke
While researching the history of computer animation, he has been the editor-in-chief of tampen.jp, a comprehensive domestic short animation information website since 2018. In addition to writing articles introducing Japanese short animation films and interviewing individual animation artists, he also plans and organizes screenings and talk events. Starting in 2022, he has worked as a program coordinator for the "New Chitose Airport International Animation Film Festival."
*Interview date: May 17, 2022
*URL links were confirmed on February 1, 2023.